THIS CHARACTER IS ON HOLD.
This character belongs to Moodle
| | |
| --- | --- |
| | This character is a member of the Varden. |
| | |
| --- | --- |
| | This character is an Elf. |
History
Eldur was born 5000 years ago in Ellesmera to Hérion Talesas and Inethiel Telnarar. When he was a little boy he was taught by his father, who was a warrior, to fight. He grew up with the other Elven children and lead a normal life. After living his life in Ellesmera for 3 millenium (In human years) of practice, he went out to fight just as his father had. But before he had a chance to, his mother, who was visiting some of her kin in Nadindel, was waylaid by a band of Urgals serving the king and she was slain. Eldur, angry at his mother's death, vowed that he would only get revenge when he had seen the king slain and thus etched the words 'Eternal Servitude' on the blade of his sword. He fought for 2 more millenium for the Queen and the Varden and is a skilled warrior, even for Elf standards.
Personality
Kind and caring to all living things. He is humble and is quiet. He is ruthless to the enemies of the Varden and the Queen. He is a natural born warrior.
Eldur Talesas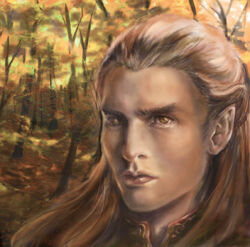 Title
Elf
One of the Vaarden
Warrior
Vital Statistics
Gender
Male
Born
Family
Hérion Talesas (Father)


Inethiel Telnarar (Mother)

Status
Alive
Eye Colour
Gold
Hair Colour
Blond
Height
6'9
Other