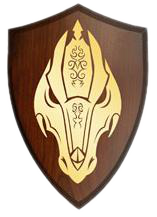 About Jedrik
Jedrik is a Dragon Rider. His dragon is Taenth, hatched to him when he was seven years old. He was trained by one of the newest fully-trained dragon riders at that time, and with him Jedrik learned everything he needed to become one of the best dragon riders of his time. He was always allied with the Varden, since his father Brodan was one of their soldiers. His arch-enemy is
Aurelio the Dark
Physical Description
Jedrick is very tall and muscled. He has great stamina and can endure many hours of work or travel. He is considered handsome among the ladies. He has brown hair and brown eyes.
Personality
Jedrik is closed to new people, but he warms up after a while. He is a brilliant strategist. He really loves Taenth and doesn't stay away from him much. He is very loyal to the Varden and won't rest until they're victorious.
History
When he was a kid, he lived in Surda with his mother. One day, Jedrik was playing on his village when an old man passed running. He stopped when he saw Jedrik and handed him a rock wrapped in old blankets. He told him to hide it in a safe place. Jedrik then ran to a secret place only he knew, a hole he had made on a huge tree, at the forest. He put the rock there and used to visit it everyday, for a reason he couldn't explain. Five days later, the rock hatched a green dragon, Taenth. When he told his father, he took him to the Varden to be trained.
Weapons

Ad blocker interference detected!
Wikia is a free-to-use site that makes money from advertising. We have a modified experience for viewers using ad blockers

Wikia is not accessible if you've made further modifications. Remove the custom ad blocker rule(s) and the page will load as expected.